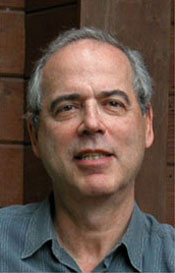 Richard Lerner, on making Out of Europe:
Coming back from my mother's funeral, when I was already sixty, my two cousins, who always had these friendly arguments, talked about how our family had to leave Belgium during World War I, and left my Aunt Jenny with a gentile family, who took care of her and even breastfed her. When it came time for her to be returned to our family, she didn't want to leave. She didn't recognize her real father - an Orthodox man with a big dark beard. Stories like this made me want to shoot some video of my cousins, who are as close as sisters but always bickering in a charming way over details. When I started shooting them a story unfolded, which my parents never told me, about how my father's large family - seven brothers and three sisters - most of whom were living in Belgium in 1940, had to leave within two days when the Germans bombed Antwerp. This led to an amazing story of their escape through France, Spain, Portugal, and finally, to America.

A short time later, I was cleaning out my mother's apartment and discovered a box of 8mm Kodachrome films of the family that my father had shot not long after their arrival in America. To see footage of the family right after the war, enjoying their new life, gave a new mood and meaning to the story. Then I knew that I was destined to make this film. I interviewed three other cousins and my remarkably keen-minded 95-year-old Aunt Rosa to capture their individual recollections of those turbulent months.

Curiously, just like with my previous film, What Happened to Kerouac?, I seem to fall into these documentary projects accidentally. I don't set out to make them, but they seem to come to me.

Richard Lerner started making 16mm short films in the late sixties, worked on several successful commercial features inthe seventies, and has been involved in documentaries since the mid-eighties.  His Beat Generation documentary, What Happened to Kerouac?, is widely acclaimed and has been distributed around the world. His latest documentary Out of Europe is now available from Sisu Entertainment.